Carole and Jan VAN DEN BOSCH, specialists in
late 19th & early 20th century, Artist designed, silver
and jewellery, from the Arts & Crafts, Art Nouveau, Jugendstil, & Skonvirke movements, are situated at:-

123 Grays, 58 Davies Street, Mayfair,
London, W1K 5LP U.K.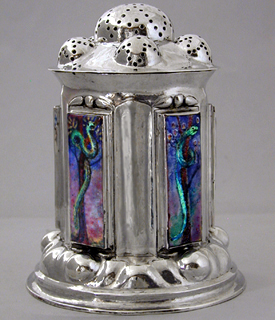 The VAN DEN BOSCH website inventory includes items by:- C. R. Ashbee, Ramsden & Carr, Gilbert Marks, Henry Wilson, A. E. Jones, Archibald Knox, Kate Harris, Arthur & Georgina Gaskin, Theodor Fahrner, Jessie King, Mrs. Newman, Murrle Bennett, Edward Spencer, H. G. Murphy, Bernard Instone, Sibyl Dunlop, Dorrie Nossiter, George Hunt, Thorvald Bindesboll, Evald Nielsen & Georg Jensen.

The Archive shows a selection of items bought by
private, corporate, and trade clients and includes many acquired for museums worldwide.
Please e-mail with any queries. See Contact page.